Difference between revisions of "Monedas"
Jump to navigation
Jump to search
---
Latest revision as of 15:28, 7 May 2021
Las monedas en definen la moneda bajo la cual se registran los asientos contables.
En Numera puedes radicar un documento en la Ventanilla Única de Radicación Virtual, basta con seleccionar que el documento es en otra moneda.
En Odoo hay creadas 170 monedas, y activas solo COP, USD y EUR. Si requieres utilizar otras monedas debes ir a Odoo / Contabilidad / Configuración / Monedas; y activar las que desees.
Registro de diarios en otra moneda
Para registrar diarios en otra moneda es necesario "decirle" a Odoo en qué tasa deseas registrar la transacción así:

1. Ir a Panel Contabilidad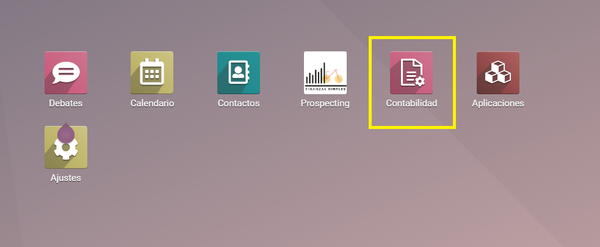 2. Click en configuración / Monedas

3. Click en la moneda
4. Click en Tasas.

5. Digita el día y el valor de la tasa. Tener presente que el valor a ingresar es 1/tasa ya que estamos indicando la relación de 1 peso de la moneda funcional vs el equivalente en otra moneda; por ejemplo si la tasa en otra moneda es $4.000 se debe colocar 0,00025 (1/4000)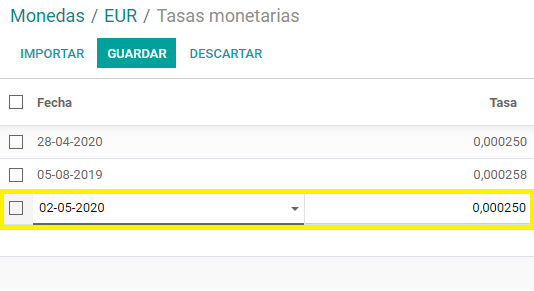 Ya podrás registrar el diario (comprobante contable)
Para ver los valores del diario en su equivalente en la moneda nacional se debe ir al asiento contable. En las facturas de venta y facturas de compra en asiento se encuentra en el diario en "Otra información"
Multimonedas
Para activar el registro de l diferencia en cambio de una transacción en moneda extranjera, seguir el siguiente link https://www.odoo.com/documentation/user/12.0/es/accounting/others/multicurrencies/how_it_works.html
En Numera creamos los siguientes parámetros para las monedas que se utilizarán en el sistema contable:
COP Peso $
EUR Euros €
USD Dollars $
AED Dirham د.إ
AFN Afghani Afs
ALL Lek L
AMD Dram դր.
ANG Guilder ƒ
AOA Kwanza Kz
ARS Peso $
AUD Dollars $
AWG Guilder Afl.
AZN Manat m
BAM Mark KM
BBD Dollars Bds$
BDT Taka ৳
BGN Lev лв
BHD Dinar BD
BIF Franc FBu
BMD Dollars BD$
BND Dollars $
BOB Boliviano Bs.
BRL Real R$
BSD Dollars B$
BTN Ngultrum Nu.
BWP Pula P
BYN Rubles Br
BYR Ruble BR
BZD Dollars BZ$
CAD Dollars $
CDF Franc Fr
CHF Franc CHF
CLP Peso $
CNY Yuan ¥
CRC Colon ¢
CUP Peso $
CVE Escudo $
CYP Euros £
CZK Koruna Kč
DJF Franc Fdj
DKK Krone kr
DOP Peso RD$
DZD Dinar DA
ECS Sucre S/.
EGP Pound E£
ERN Nakfa Nfk
ETB Birr Br
FJD Dollars FJ$
FKP Pound £
GBP Sterling £
GEL Lari ლ
GHS Cedi GH¢
GIP Pound £
GMD Dalasi D
GNF Franc FG
GTQ Quetzal Q
GYD Dollars $
HKD Dollars $
HNL Lempira L
HRK Kuna kn
HTG Gourde G
HUF Forint Ft
IDR Rupiah Rp
ILS Shekel ₪
INR Rupees ₹
IQD Dinar ع.د
IRR Dinar ﷼
ISK Krona kr
ITL Lira ₤
JMD Dollars $
JOD Dinar د.ا
JPY Yen ¥
KES Shilling KSh
KGS Som лв
KHR Riel ៛
KMF Franc CF
KPW Won ₩
KRW Won ₩
KWD Dinar د.ك
KYD Dollars $
KZT Tenge лв
LAK Kip ₭
LBP Pound ل.ل
LKR Rupee Rs
LRD Dollars L$
LSL Loti L
LTL Litas Lt
LVL Lats Ls
LYD Dinar ل.د
MAD Dirham د.م.
MDL Leu L
MGA Ariary Ar
MKD Denar ден
MMK Kyat K
MNT Tugrik ₮
MOP Pataca MOP$
MRO Ouguiya UM
MUR Rupee Rs
MVR Rufiyaa .ރ
MWK Kwacha MK
MXN Pesos $
MYR Ringgit RM
MZN Metical MT
NAD Dollars $
NGN Naira ₦
NIO Cordoba C$
NOK Krone kr
NPR Rupee ₨
NZD Dollars $
OMR Rial ر.ع.
PAB Balboa B/.
PEN Inti S/
PGK Kina K
PHP Peso Php
PKR Rupee Rs.
PLN Zloty zł
PLZ Zloty zł
PYG Guarani ₲
QAR Rial QR
QTQ Quetzales Q
RON Leu lei
RSD Dinar din.
RUB Ruble руб
RUR Ruble R
RWF Franc RF
SAR Riyal SR
SBD Dollars SI$
SCR Rupee SR
SDD Dinar £Sd
SEK Krona kr
SGD Dollars $
SHP Pound £
SKK Koruna Sk
SLL Leone Le
SOD Shillings Sh.
SRG Dollars $
SSP Pounds £
STD Dobra Db
SVC Colones ¢
SYP Pound £
SZL Lilangeni E
THB Baht ฿
TJS Somoni TJS
TMM Manat m
TND Dinar DT
TOP Paanga T$
TRY Lira ₺
TTD Dollars $
TWD Dollars NT$
TZS Shilling x/y
UAG Hryvnia ₴
UAH Hryvnia ₴
UGX Shilling USh
UYU Peso $
UZS Som лв
VEF Bolivar Bs.F
VND Dong ₫
VUV Vatu VT
WST Tala WS$
XAF Franc FCFA
XCD Dollars $
XOF Franc CFA
XPF Franc XPF
YER Rial ﷼
YUM Dinar дин.
ZAR Rand R
ZMK Kwacha ZK
ZRZ Zaire Ƶ
ZWD Dollars Z$